It's time to give your beloved Nordic Walking poles a little bit of tender loving care!
Your Nordic Walking poles are pretty resilient and fairly low maintenance but it's worth giving them a little MOT once in a while… and with that rain battering against my window this morning, today was the perfect opportunity!
So, here are a few tips on pole maintenance:
Straps
Remove your straps from your poles and check them for wear and tear. If they are starting to fray, it's wise to replace them as they can start to cause blisters or become uncomfortable. Remove any grass and debris from the Velcro straps.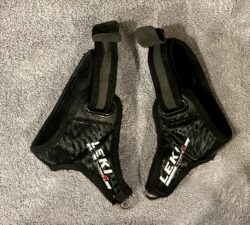 You can wash your straps in the washing machine at 30 or 40 degrees with a non-bio detergent. Let them dry naturally and do not tumble dry. Washing your straps will also soften them and make them more comfortable to wear but can add to the wear and tear so it's best to avoid washing them too frequently.
If your "Leki loops" are difficult to fit onto your pole, then you can try a tiny amount of washing up liquid on the loop to ease it. Or you can try stretching the loop using the bottom tip of the pole.
(Instructor Tracy has Leki, Gabel, and Fizan straps in stock at the Car Boot Shop!)
Paws
Remove the paws from your poles and check for wear and tear.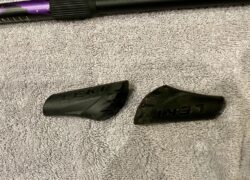 If your Nordic Walking technique is good and your pole is correctly adjusted, your paws should wear evenly.  If the paws are worn on just one edge, then you either have the incorrect pole height or an incorrect arm swing.Have a chat with Instructor Tracy if this is the case and we can look at both aspects for you.
Replace your paws if they are worn
(Instructor Tracy has paws for the most common types of poles in stock at the Car Boot Shop!)
If your paws still have tread left, then give them a wash in some gentle detergent to remove any dirt or grime and dry thoroughly.
Poles
Most poles come in sections and will come apart so don't be afraid of separating the sections to give them an overhaul.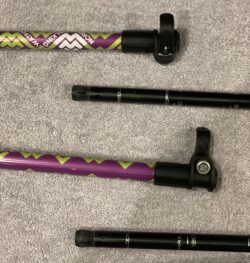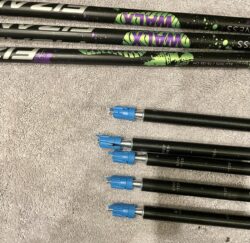 Check your handles for wear and tear – if your handles are cork, it can wear away and get very uncomfortable on long-distance walks.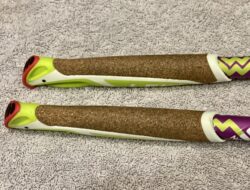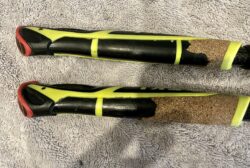 Unfortunately, it's not easy to replace but Gary is looking at some options in his repair shop
Check the pole tips. These are made of carbide and are very durable but if they are worn, you can buy replacements and fit them on.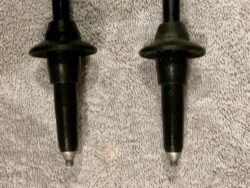 You can have a go at this yourself using the guidance video from Leki  https://www.youtube.com/watch?v=RTP6EFALEgk
Alternatively, Instructor Gary will be happy to help in return for a donation to our nominated charity.
You may see some white salt deposits on the pole shaft where it joins the handle.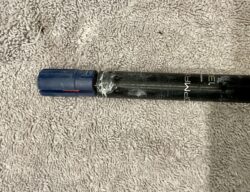 This usually means that the pole has got wet at some point. If you do get caught in the rain with your poles, it's worth bringing your poles inside and separating them to dry them properly.
Using warm water with some gentle detergent and a cloth, wipe down the handle and shaft of the pole to clean them. If you have twist lock poles, check and remove any grit or debris from the plastic "widget" on the main shaft of the pole. Dry the pole thoroughly using another cloth. It's important not to use any kind of lubricant on your poles as this can be detrimental to them.
You can now reassemble your pole. And that's it – just a few minutes and your poles are good to go on your next walk.
Protect your poles in transit by storing them in a pole bag – NWW branded pole bags are available from Tracy or you can purchase Leki or Gabel pole bags from the NWUK store https://store.walx.co.uk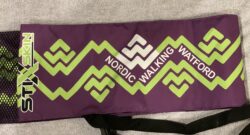 If you look after your poles they should last you for a lifetime, so if you're thinking of buying a pair we recommend buying good quality poles for minimal vibration and lighter weight.
If you need help with buying poles then please ask Tracy or Gary for advice. Ultimately, we want you to be happy with your poles so that you can enjoy your Nordic Walking with us.
TRACY REEVE
LEAD INSTRUCTOR
NORDIC WALKING WATFORD