Hello Norfolk Nordic Walkers!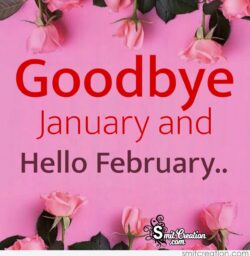 As frosty February takes hold, it may feel tempting to take a break from walking till the Spring comes along.  BUT winter walking is the best! As long as you have good layers on, a hat, some gloves and maybe a set of gaiters, I can pretty much guarantee you will feel better after a good nordic walk!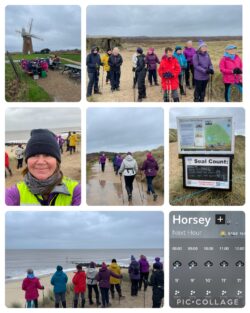 It will increase your energy levels, you will get some welcome mood improving Vit D light, boost your endorphin levels with good all over exercise and enjoy seeing how the season changes in some amazing places where we walk.  Plus what's not to love of enjoying lively chat with friendly folk….?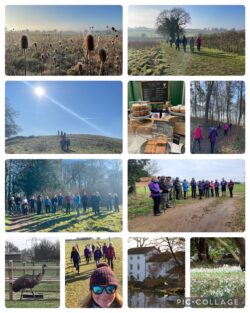 READ ALL ABOUT IT – our FAVE NORDIC WALKING BENEFITS:
1.  It's enjoyable – and anyone can be good at it!
2.  Helps with weight loss
3.  Tones your muscles and helps keep your bones strong
4.  Protects your hip and knee joints + IMPROVED POSTURE
5.  Strengthens your heart and lungs
6.  Boosts your circulation
7.  Improves your lymph drainage
8.  Mental wellbeing
9.  Explore new places
10.  It's addictive!
It's such a friendly and fun way to keep fit. The more you do, the fitter you feel. The fitter you feel, the better you feel.  The better you feel – the more active you become. And you want to then hurl yourselves up the hills at High Ash or try a faster workout walk. Nordic walking can turbo boost fitness and inspire you to take on challenges you never thought possible.  (Anyone up for the September Coastal Half Marathon. Look no further as we will be there……)
POSITIVE STEPS COASTAL HALF MARATHON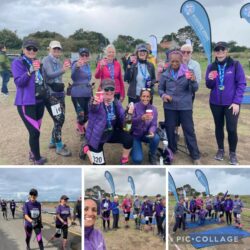 Looking for a challenge this year?  This is a wonderful event run by fellow Nordic enthusiast Kevin Marshall from NW Suffolk.  We walk with hundreds of trail runners along the most gorgeous stretch of North Norfolk Coast.  Take it at your own pace or go for a PB.  It's up to you.  But during the summer Norfolk Nordic Walking put on special training walks to get your legs (and mind) ready for it.  Interested?  Click on the link and find out if this is up your street….
https://positivestepspt.co.uk/events/norfolk-coastal-marathon-2023
BECKY'S LET'S DO LUNCH DIARY DATE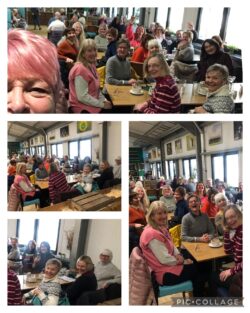 Walk Leader Becky absolutely LOVED organising lunch for 18 of us at the Goat Shed @ Honingham this week.  The food, company, atmosphere and goat-i-ness of the event was so successful that she has already set up the next one here. Get your diaries out – it's booked for Thursday 20th April at 1pm and spaces are LIMITED.  To book your place – text Becky on 07786 804021 to get added to the list.
IMPORTANT DATE AND LOCATION INFO
DUNSTON FRIDAYS – We cannot currently walk on Dunston Meadow (due to it being closed for sheep grazing) so our Fortnightly Fri-Yay Walk n Talk will lead off from High Ash Farm.  If you receive an email confirmation with Dunston Common as the location – PLS IGNORE.  I am amending these walks to High Ash Farm online as I type!!!
DATE SWAP – Our Saturday 18th Feb Baconsthorpe Castle 5 miler (BRAND NEW ROUTE!) is now on 4th March and the 4/3 is now on 18/2.  Emails have been sent out to walkers on both walks but pls check online too.  Still wiggle room if you would like to join either walk…!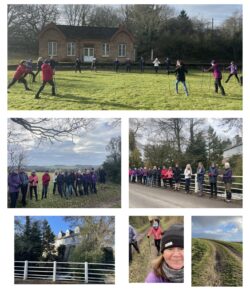 HOLKHAM WALK – NEW LOCATION START!
This is one of our favourite places for a coastal – country longer walk.  It's 10 feel-good miles of sand/dunes/quay/harbour/town & inland trails. A total hit always come rain or shine (it invariably is sunny!!!).  We usually park on Wells Quay but this year we will park up at Holkham Hall so we can end our walk with lunch in their lovely Courtyard Cafe.  THIS WALK IS FULLY BOOKED BUT WE WILL REPEAT IT IN SEPTEMBER.
https://exercise-anywhere.com/event/262150-**SPECIAL-EVENT**–WELLS-BEACH-HUTS-TO-HOLKHAM-HALL-BEACH-WALK-+-LUNCH-IN-THE-COURTYARD-CAFE-9-miles-(Gear-2)
WAITING LIST
Do not be put off if you find you book and you are on the WL.  We try try try to fit you all in where possible.  Plus people's plans can change so you may suddenly go from position 4 on the list to getting a place.  Just keep an eye on your emails for confirmation! 
BUYING NEW POLES OR KIT 
Looking at investing in NEW kit, poles or accessories. Visit the WALX store-  https://store.walx.co.uk Plenty of NEW poles in the sale along with waterproof socks, gloves and Nordic gear. Fizan 
SHOP N DROP BOX – AVOID PAYING P & P
You can avoid £5 delivery charge and have your 'stuff' delivered to me in my Shop n Drop box next week.  LAST ORDERS SUNDAY 19TH FEB!!!  At the checkout, click the COUPON CODE box and enter rebecca17 and it should show delivery to me at:   48A The Avenue, Sheringham, NR26 8DQ and will not charge YOU!
MONTHLY MEMBERSHIP
For £28 per month, you can book on UNLIMITED walks AND Zoom Workouts too. You also get PRIORITY PASS to book ahead –  and thus avoid the Waiting List! 
TOP TIP: Book early!  You can book your sessions right up to April.  
NORDIC RUMBLE – OUR WHATSAPP GROUP
If you like to stay in touch with updates, photos, info about Norfolk Nordic Walks, traffic news etc via WhatsApp then why not join our group?  Text Rebecca on 07832 108200 to be added to the group. (ALSO keep up to date with our Norfolk Nordic Walking Facebook page too.)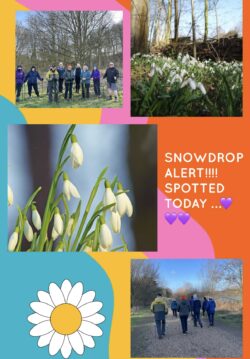 Looking forward to another FAB week ahead.  Plenty of flowers are now coming out (daffs have already been spotted!)  and the days are getting longer with brighter mornings.  Spring is on her way but for now, let's just enjoy these crunchy crispy mornings with their fabulously dazzling skies.  Sunglasses are very much the order of the day. 
Best,
Rebecca, Becky & Lynne
***NNW WEEKLY WINTER SCHEDULE ***
 https://nordicwalking.co.uk/instructors/norfolk-nordic-walking/
(UNLIMITED WALKS P/W + UNLIMITED ZOOMS  are incl in our £28 PER MONTH PACKAGE )
Monday   
9.15am KICKSTART @ WHITLINGHAM COUNTRY PARK (Gear2- 3) 
10.15am WAKE UP @ WHITLINGHAM COUNTRY PARK (Gear 2) 
11.15am PRIVATELY BOOKED 1-1 
ZOOMS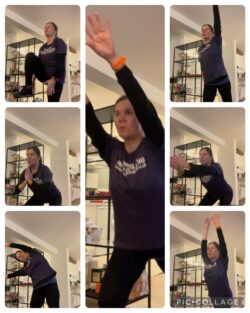 7.30am WAKE UP AND STRETCH with Karen
9am SWING, MOVE AND SMILE with Mary
5pm TOTAL BODY WORKOUT with Karen
Tuesday 
9.30am HIGH ASH CIRCULARS (Gear 2) 
11am RE-CHARGE AT WHITLINGHAM (Gear 1 – 2) 
ZOOMS
7.30am EARLY START WORKOUT with Emma
9am SMOVEYS with Ashley (try it… great fun!!!)
7pm YOGA WALX with Gilly
Wednesday 
10am MID-WEEK MAGIC AT BLICKLING 4.5 mile (Gear 2+) 
10am BECKY'S REEPHAM & WHITWELL 4.5 mile CIRCULARS (Gear 2)
1.30pm  PRIVATELY BOOKED 1-1  
Thursday
8.15am BODY BLITZ ZOOM WORKOUT
9.15am  LYNNE'S EATON PARK WEST – UEA CIRCULAR (Gear 2)
10am CATTON PARK WELLNESS WALK + MINI CIRCUITS (Gear 1 – 2) 
11.20am  MOUSEHOLD CIRCULARS (Gear 2) 
Or
11.20am CHASE YOUR PACE NDR / SPIXWORTH CIRCULAR (Gear 2) 
12.30pm PRIVATELY BOOKED 1-1 
ZOOMS
7.30am EARLY START WORKOUT with Emma
8.15am BODY BLITZ with me
9am BODY BLAST with Denise
9.45am RESISTANCE IS NOT FUTILE with Denise
6pm PILATES wih Karen
Friday  
8.15am STRETCH, BALANCE & FLEX ZOOM WORKOUT 
9.30am FORTNIGHTLY FRI-YAY WALK & TALK @ HIGH ASH (Gear 2) 
10am PRIVATELY BOOKED 1-1 
ZOOMS
8.15am STRETCH FLEX AND BALANCE with me
8.30am MORE SMOVEYS with Ashley
Saturday 
9.30am   SUPER SATURDAY SPECIALS ACROSS NORFOLK – see NNW website!
 HERE at NNW, we love to Recce – Recce – Recce NEW ROUTES!