HAPPY 5TH BIRTHDAY NORFOLK NORDIC WALKING
SMALL ACORNS…
Here's how it all began.  I left my full time teaching career in July 2017, gained my Personal Trainer Level 2 qualifications in August and then trained with NWUK to qualify as a Nordic Walking Instructor.  Once I had passed my exams in September,  I registered Norfolk Nordic Walking as my own business and so NNW was born.  I was self-employed with zero clients but passionate about Nordic Walking  – so I practised on family and friends!
Building a walking business with firm foundations means ADMIN ADMIN ADMIN – applying for licences, insurances, gaining permissions from landowners,  building up a website, creating an online  booking platform, recce-ing walk locations/writing risk assessments,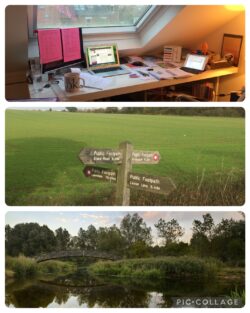 working out a marketing plan, meetings with Norfolk County Council and various other bodies, advertising, MORE advertising, MORE recce-ing, spreading the word – flyers in hand! 
and lots of FREE TASTER SESSIONS– often with nobody on them in those early days…
Gradually – and slowly – walks started to grow.  People saw my leaflets / posters / ads in local papers etc and were curious, came for a try on a Taster and then signed up for the Learn to NW courses to gain their NWUK Passports and come Nordic-ing.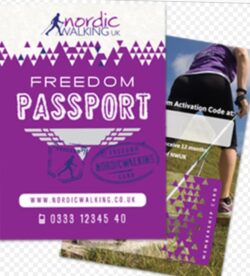 From the get-go, I ran 11 walks per week (in the early days, just with me on them!)  – trialling sessions  7 days a week, both morning and afternoon.  Plus lots of Tasters and Courses. My goal from the start was to 'set out my stall' with lots in the 'shop window'.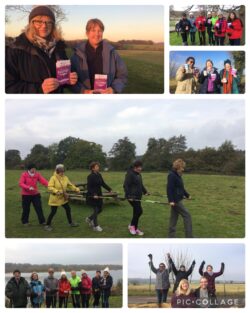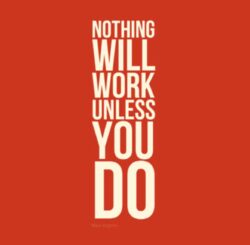 2018 BEGAN COLD!  Many of the 'new' folk who signed up to learn in those chilly months look back now with proud affection on completing their training courses in high winds, sleet, rain and snow! But that didn't put people off. Far from it.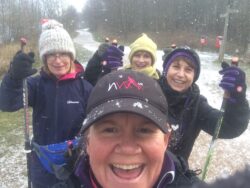 The groups were beginning to grow (small acorns) , walk locations were expanding as permissions were being granted (Catton Park, Whitlingham, High Ash Farm, Caistor St Edmund Roman Town, Dussindale Park and the UEA) and NNW members were enjoying not only the amazing fitness benefits of Nordic Walking, but the social side too. This was good for the soul…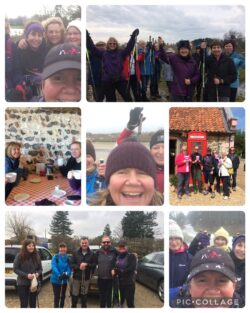 2018 was also the year of TRYING EVERYTHING!!!  Some things worked, others didn't: after 5pm evening Workout Walks (in winter with headtorches) three times a week,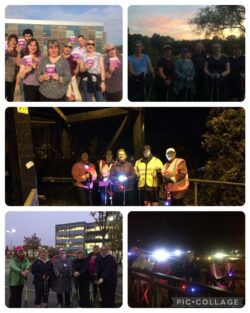 Walking Fit-Bit  Circuits – doing bench presses and triceps dips along the route,  Well- Being Walks, regular Tuesday Evening Socials at the Eagle Pub, monthly WEEKEND Learn to Nordic Walk courses at Burnham Deepdale on the N.Norfolk Coast, Mindfulness Meanders, HIIT Training walks with weights and resistance bands (and Smoveys), Lunchtime Liveners, Afternoon Long Distancers, Sunday Specials and collaborative walks with other NWUK groups.
We met up with Mark's West Norfolk NW group in both Sandringham and Blickling twice and hosted a particularly memorable  9 miler from Sheringham to Cley with Jane's NW Tameside group from Manchester.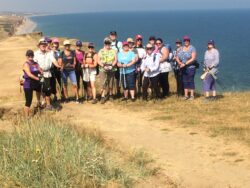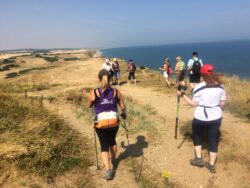 Many good walks ended in the pub….of course!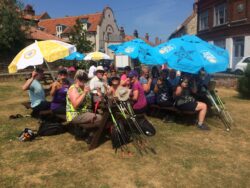 A group of us also joined up with Kevin's group – Nordic Walking Suffolk – for a truly memorable walking weekend in Hunstanton. It was absolutely brilliant.
2018 was the year also when permission was also granted by the National Trust to walk at Blickling every Wednesday which for me was magical.  We became such a regular 'feature' that the  NT put us on their website (and we were later filmed in 2019 for a promo video of the Estate but that's another story!)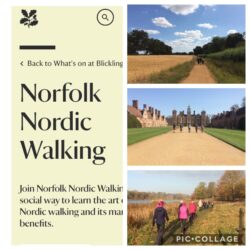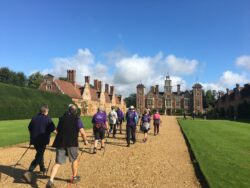 NEVER A DULL MOMENT! 10 of us trained that summer and completed our first Challenge Event – the  North Norfolk Coastal Half Marathon.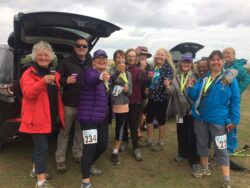 By the close of 2018 John came onboard as my first Walk Leader to cover me for the occasional times I took a weekend off!  As a Norwich Tour Guide he also put on an exclusive walking tour for NNW-ers- ending with a long lunch at the Louis Marchesi pub.
2018 closed with a memorably chilly Mulled Wine Walk from Mousehold…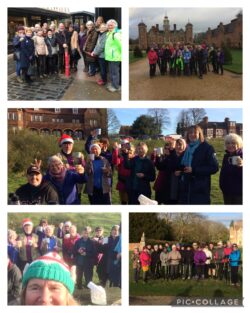 …great fun!
AND SO BEGAN 2019…
  This was the year I commissioned our very own branded NORFOLK NORDIC WALKING t-shirts to be made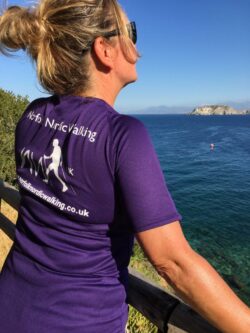 – 200 literally flew off the shelf (aka the boot of my Skoda Citigo!).  Over the year these found their way across the world from the Caribbean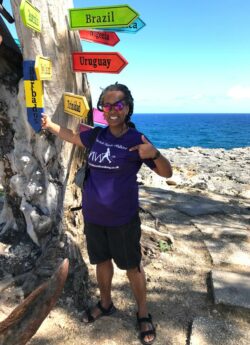 to Machu Picchu, Japan and Europe!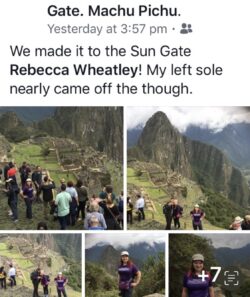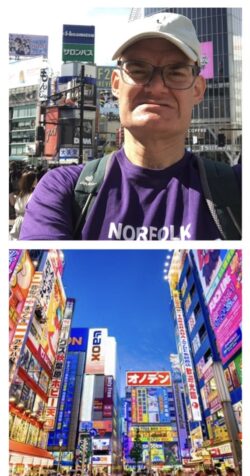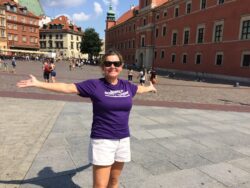 Purple Power was beginning to take off – literally!
We had a team take part in the MARRIOTT'S WAY Half Marathon in freezing February – having completed our training walks on hazy misty wintery Saturdays. Competing against 300 trail runners was the icing on the cake.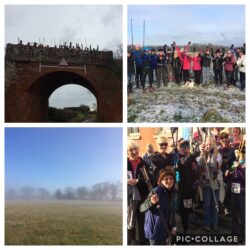 Weekend walks took us far and wide across the county…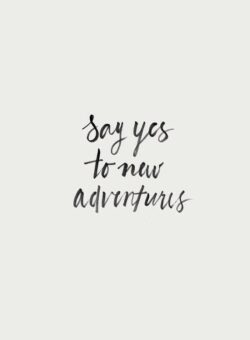 …from Surlingham on the Broads to the Pulhams near Suffolk, whilst the selection of twelve  Monday – Friday walks gave people the choice, variety,  differentiation and routine to make Nordic-ing bookable for all levels of fitness .  One size does not fit all.  Some of us took part in events for charity such the fabulous annual Parkinson's Walk at Blickling Hall.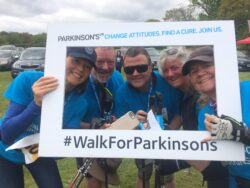 We all were all getting fitter, Nordic was certainly getting addictive and each day come rain…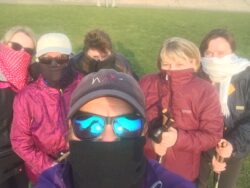 …or shine walks were getting busier.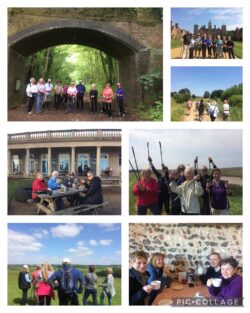 Learn to NW Courses were FULL!  Alongside the lively, jam-packed Weekly Schedule, there were also many memorable fabulous days out too …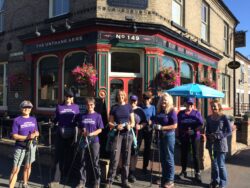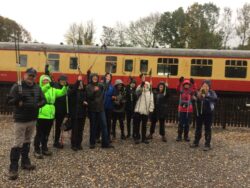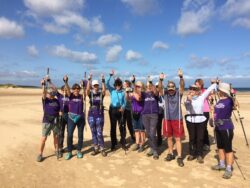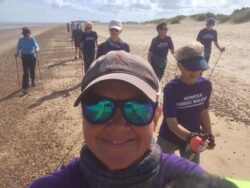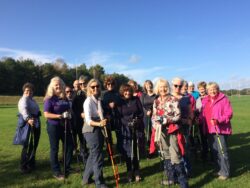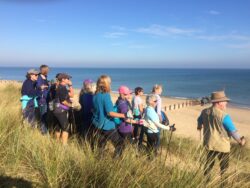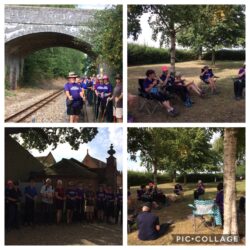 In 2019 Becky (at the beginning of the year) and Diane (towards the end) had joined the team.  Hurray!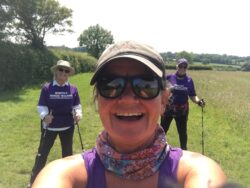 We were expanding!!!
AND JUST AS IMPORTANT WERE THE POST WALK SOCIALS TOO!!!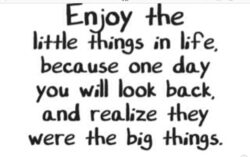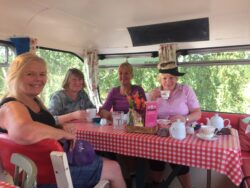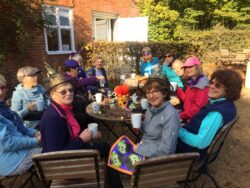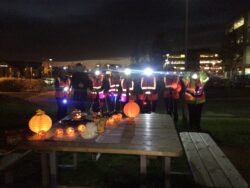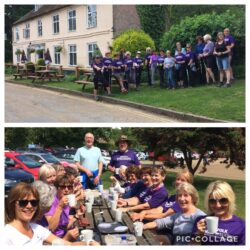 By the end of 2019 we were b u z z i n g!
 We held our annual Christmas Lunch at The Bucks in Blickling – What would 2020 hold???? Onwards and upwards we thought....!
2020 dawned – and with typical NNW gusto we kicked off with a glorious New Year Walk through Heydon Village and Estate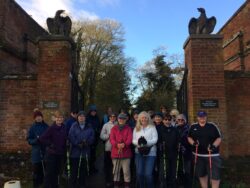 followed by a candle lit fireside lunch in the Earle Arms.
 Another Dream Team took part in the February MARRIOTT'S WAY Half Marathon.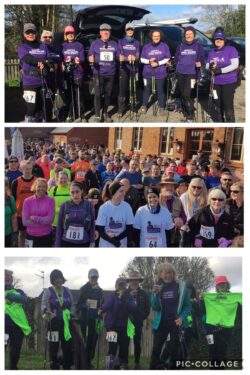 Walks were busy – nobody was deterred by poor weather, mud, drizzle or anything in-between!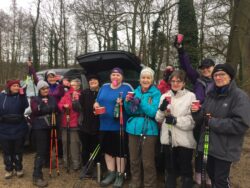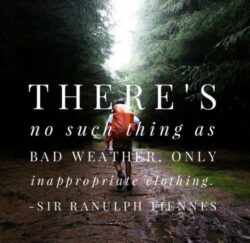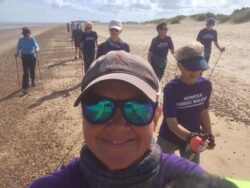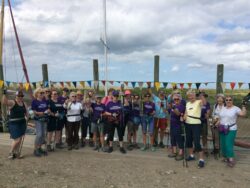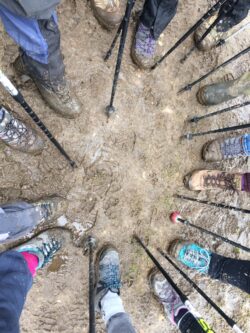 We were full steam ahead, doing the usual thang in winter climes – comparing makes of waterproof socks and putting on a spurt when coffee was in sight at the end of a windswept walk!
…That was, until on 23rd March Coronavirus (COVID-19) hit the UK and the nation went into lockdown.  
It was a time to think outside the box, create new ways to connect us all whilst keeping to the 'Stay at Home' rules AND keep us fit, active, motivated and engaged too.  This led to two daily Zoom aerobic workout classes each day with weights and resistance bands (such as 'Winner takes HIIT all, Cans in the Cupboard, X Marks the Spot, Body Blitz, Chi Fusion, Core Strength Sessh, Stretch Flex & Balance, Let's HiiT it, 10 out of 10, Foot Flex-obics and many many more… ) often with up to 30 people per class, plus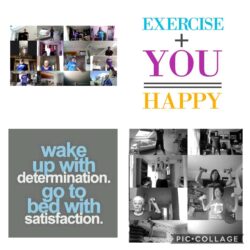 a weekly (Zoom) Book Look Cook Club, a Thursday pm Quiz night, a Zoom Bake Off, An A-Z daily WhatsApp NORDIC RUMBLE Photo Bomb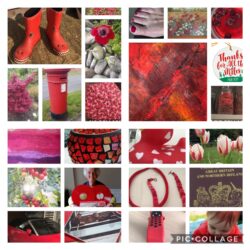 and the Big Solo Walking Challenge – RACE ACROSS THE WORLD. 
   In Lockdown 1 we totalled (from all our daily solo mileages clocked up individually and then added up on a weekly count up) 22,000 miles – the distance from Norwich to Cape Town.  Awesome!!  Lockdown 2 we walked the length of Route 66 across the States –  2278 miles and Lockdown 3 we set off from Panama and took the scenic route down through S. America via Ecuador, Peru, Chile with the goal to reach Ushuaia at the tip of Argentina.  Naturally – NNW smashed it – a total of 4433 miles. Each Friday at 5pm we hosted Happy Hour from the country we had reached in mileage…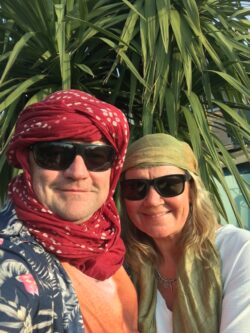 … which kept us smiling!! Here's David and I " having crossed the Sahara" on Week 3 of Lockdown 1…
In between the lockdowns, we had more of a challenge working out how to keep to the 'Rule of 6' (the law about social and exercise gatherings) whilst fitting everyone on sessions to walk at least twice a week.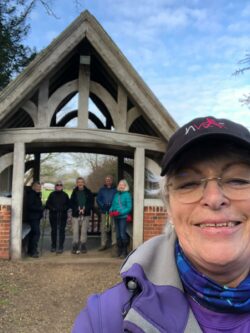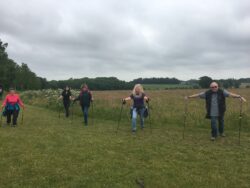 So we had to operate in mini groups aka "bubbles" as per Gov Guidelines (with the  '1 metre Poles Apart' rules applied) and just put on MORE sessions each day.  Thanks to the wonderful Walk Leaders for stepping in and stepping up so demand was met.  We were able to offer five walks per day – phew!
In between the two lockdowns that year, we were so busy that it was time to enlarge the team once more.  Lynne did her Walk Leader Training online (double hurray!)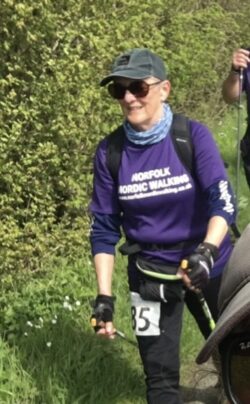 Meanwhile, Becky and I got out and about recce-ing and trialling safe 'Pole Apart' wide paths.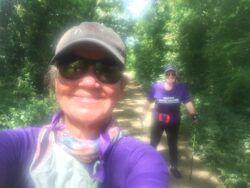 Masks on? Masks off? We tried it all…
So,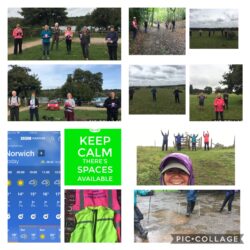 gradually this 'new' style of life – albeit with hi-viz Covid Secure jackets, took shape.  Just when we thought we were getting 'out of the covid woods',  2020 ended with it happening all over again…
2021 –  Lockdown 3!
Until we could all re-group physically, at least now we knew what to do to cope with this 'new normal'. The superpowers of Zoom were incredible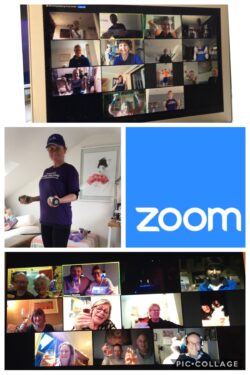 for work and play!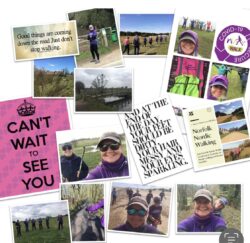 Plus regular reminders to our NNW community that we would soon be out there once more SOOOOON after ZOOOOOM!
And once we were "allowed out"  it was magical!
 It made us appreciate the super-boost powers of Nordic walking for so much more than simply walking in special places.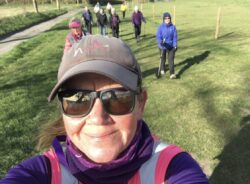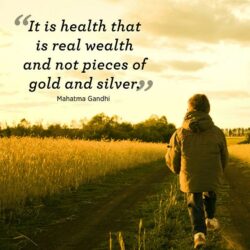 Some of us decided that a focus on training for the May 2021 Bury to Clare 18 Mile Challenge was a good thing to get our teeth into!
 If we found obstacles along the way, they did not deter us!
  (It was another great event ! Highly recommend it.)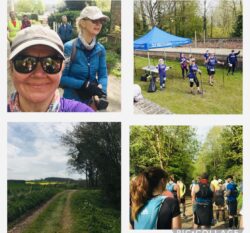 For all of us, whether on Workout Walks, Adventure Walks or joining the weekly Well Being + Strength & Conditioning walks – it was simply SUCH A GOOD FEELING to be out and about again – with the camaraderie and buzz that unifies us at NNW.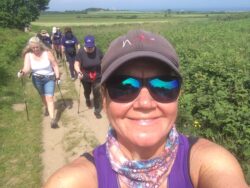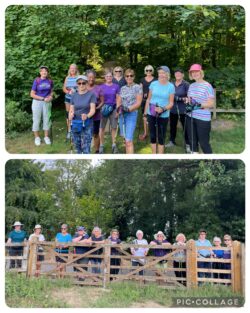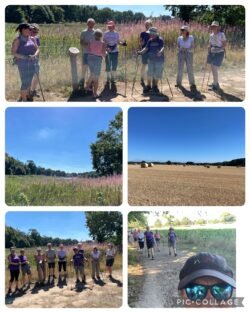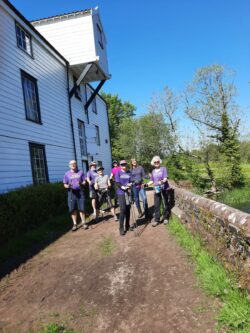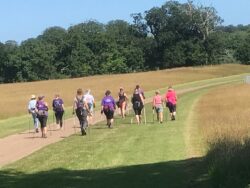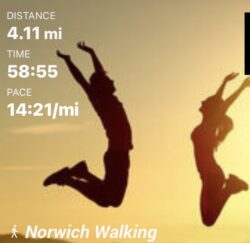 As the sun set on 2021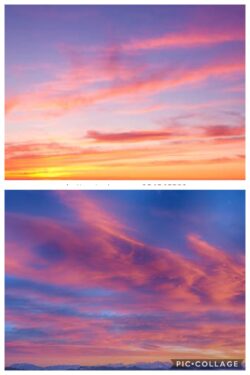 we were able to hold our Christmas Festive Special at The Bucks at Blickling once more – sitting outside(brr) as Covid measures were still in place for such a large group – and getting out some fancy dress to add the Ho! Ho! Ho! to proceedings….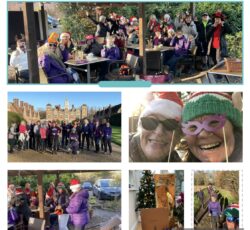 (Has to be done!)
Hello 2022!  The year kicked off with some fantastically misty walks in our weekly locations. High Ash Farm at 8.30am is quite simply sensational as is Blickling on a foggy day.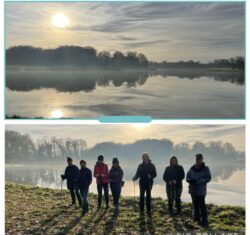 Whether it be choosing trails up in the hills or round the broad at Whitlingham – Mondays see us pretty much taking over the car park in the morning with three sessions here!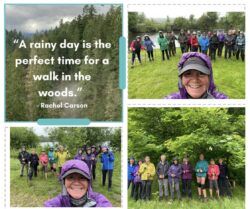 Hoods up, stride on, off we go! This has also been the year of going "off piste" with some fantastic new (and old) Saturday Specials taking us, and our Sat Navs, on weekend adventures.  We had to do our Horsey Windpump 5 miler twice in January to fit everyone on!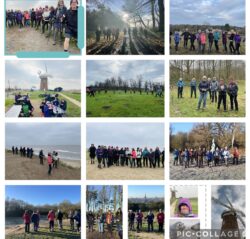 Other routes have taken us to: Hellesdon Mill, Mulbarton (love the bus cafe!)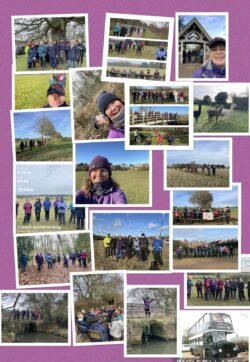 Bure – Buxton Valley, Dead Man's Gully (you have to ask Becky for this history of this!), Gt Yarmouth Workhouse Walk (did you know it exists?),  Baconsthorpe Castle Heritage Circular,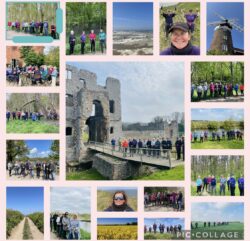 Bowthorpe Marshes, Creake Abbey, Keswick Mill, Blakeney Downs – Morston,
Potter Heigham (ask Lynne about wildlife to watch out for on this walk), Gressenhall, Shotesham, Felbrigg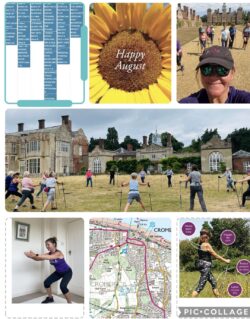 'Joining Up the Repps',  Overstrand – Paston Way  and Castle Acre.  Walk Leaders Lynne, Becky and I love a good recce – armed with maps we wade out down various tracks, paths and lokes,
some with more degrees of success to others! We believe variety is the spice of life – so our weekend specials will just keep on coming…
We're also keen to squeeze in a lunch when we can!  This year we've dined at some wonderful new places such as Sculthorpe Mill, The Suffield Arms and The Walpole Arms.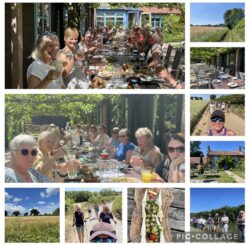 We've also kept our Zooms going twice a week – and regularly incorporate good ole squats into our warm up routines.
The summer of 2022 was undoubtedly hot hot hot.  We managed on the whole to keep to our Weekly Schedule – albeit adapted at times of extreme heat – and even trained up the 'September Half Marathon Squad' to be prepared for big mileages in temps of 25+ degs!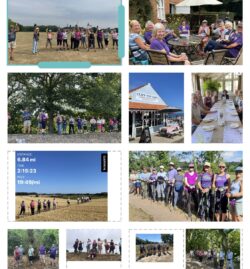 Never under estimate how 13 miles feels walking 'at pace'.  This September – our 5th birthday month – 10 of us took part in the 2022 Positive Steps North Norfolk Coastal Half Marathon – and SMASHED IT.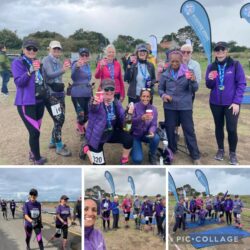 Nothing like training up as a team and walking across that finish line in sub 3.30 hours for that feeling of feel-good satisfaction.  (Proud moment!)
So – what a fantastic five year journey we have been on.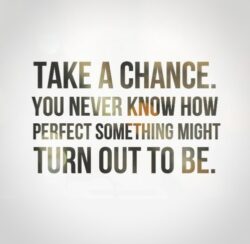 Lots of new adventures lie ahead – you know we like to always try new things and go to new places – and a few surprises too. Watch this space!!
It's been a pleasure to watch one small acorn grow, to water it, nurture it, feed it daily and see it take root, grow up and branch out. I could only have done it with YOU (and my amazing team).
So thank you.  All of you! I've loved it….
Rebecca 🙂