Buying Nordic walking poles on the internet is fast and convenient and for some reason very few high street shops stock them, but we are meeting too many budding Nordic walkers who've been sold trekking poles by online sellers who are categorising them incorrectly. To make sure you're not caught out here are some differences to look out for when you buy..
Nordic walking poles have a glove style strap
The most obvious difference is NW poles have a glove style strap which goes from the wrist up to to the palm of the hand and which always has a separate thumb hole. This is so when you release the pole using the Nordic walking swing technique you're still able to maintain control of the pole.
Trekking poles have a loop & a curved shape at the top
With trekking poles the grip is constant so there's only a loose wrist 'loop' just to keep the poles attached should you let go for any reason. Most trekking poles have a square or a curved shape at the top whilst Nordic walking poles are more streamlined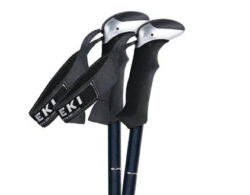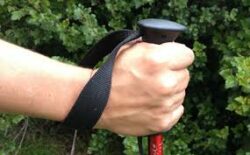 Nordic walking poles have a quick release system
NW poles usually come with a quick release system for the strap, whereas most trekking poles don't have these. The popular poles (Leki, Fizan & Gabel) usually have a button on the top to press or slide forward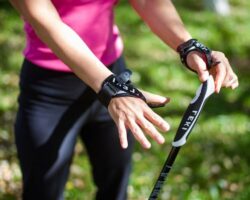 If you see poles that you like but are still not sure what they're for feel free to contact us and we'll advise you