The joy of WINTER WALKS … blissful blue skies… glorious sunshine… a touch of frost… a chill in the air… and MUD! Lots of it!
Enjoying winter walks can sometimes feel like a CHALLENGE in itself so here are my TOP TIPS!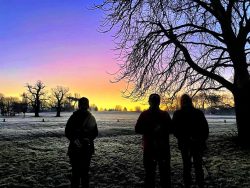 STAYING WARM
Getting your clothing right for a winter nordic walk is a tricky balance – too warm and you'll soon be sweaty and uncomfortable, too cold and you just won't enjoy it. The key is a good LAYERING SYSTEM – base layer, mid-layer and outer layer. You won't necessarily need all of them all the time but understanding what each layer does will help you decide. And you can easily remove or add a layer if you need to.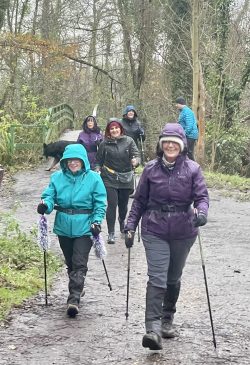 STAYING DRY
Now, it occasionally rains in Britain… so a good waterproof is worth the investment. A good outer layer will protect you against wind and rain, while also allowing the moisture and heat from your body to escape so you don't overheat. You want a waterproof that is both breathable AND waterproof. Membranes such as Goretex or Pertex do a fantastic job of letting sweat escape and stopping water from getting in.
For dry feet, look for boots/shoes that are made of a breathable and waterproof membrane too.  Reproof them regularly and cleaning the mud off frequently will help them to last longer. I can also recommend Sealskinz waterproof socks if you are out on a long walk.
STAYING UPRIGHT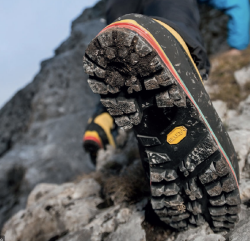 To avoid slips, a good pair of walking shoes or boots with a deep tread on the sole are essential. Look for a Vibram sole – made of vulcanised rubber, these soles offer excellent traction, grip and durability. And the deeper the tread, the greater the traction.
Vibram flexes with your feet so walking in time is minimal and it's also waterproof
If you wear Gaitors (great for keeping the mud off your walking trousers) then you may want to remove the under boot strap as this can impede traction.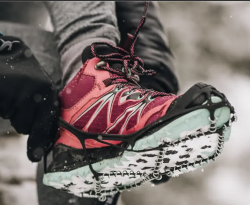 In very slippery conditions such as ice and mud* then ice cleats (e.g. Yaktrax or Microspikes) can help you feel much more stable on your feet. These lightweight grips slip over your normal footwear and provide extra traction on slippery surfaces. Whilst designed for ice, I have also worn mine successfully in muddy conditions – although please note the manufacturer does not recommend this.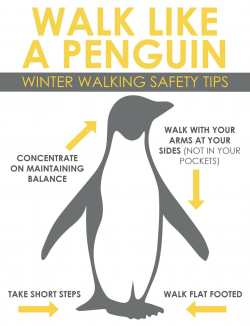 You can adjust your walking style too  – walk like PENGUIN! Shorten your stride, walk flat-footed with your toes pointing slightly outwards and concentrate on maintaining your balance.
STAYING VISIBLE
Winter brings both dark mornings and dark evenings so if you are heading out at either end of the day, you want to make you can see and be seen.
A head or chest torch will ensure you can safely navigate the terrain in front of you, as well ensuring that other people can see you. Hi-Vis clothing will also help you be seen by other walkers, cyclists and motorists.
So get the right kit and stride out with confidence and a smile in all weathers!
TRACY REEVE
Lead Instructor and Business Owner
Nordic Walking Watford