WALKING THE DALESWAY
Many of you who know me, will be aware that I LOVE a challenge.
It's a big focus for our Nordic Walking Watford members too and I often set them goals through the year. WHY?
Well, when we set a goal, we are giving ourselves a target to strive for. Holding onto that end result leads to a more structured and purposeful life.
Any challenge is always a balance of the physical, emotional, and logistical demands that such a challenge brings. And every challenge always needs to be Specific, Measurable, Achievable, Realistic and Timebound. But only YOU can make it happen.
HOW TO MAKE IT HAPPEN
THE COMMITMENT
So, at the end of each year, I sit down and make a note of what I want to achieve for the following year. I'm lucky enough to know 3 amazing ladies who share my walking challenge passion, so it's become a tradition that we do something together each year. And once we agree on a plan, we make sure it happens – and that means a solid commitment. The people you walk with are the most important part of any endurance challenge – you need to know they are strong enough and capable enough of looking after themselves but also caring enough to look out for each other too.
THE GOAL
The plan for May 2023 was to complete the Dalesway – a long distance 80-mile trail, running from Ilkley in West Yorkshire to Bowness-on-Windermere in Cumbria, passing through the heart of the Yorkshire Dales National Park and the gentle foothills of the Southern Lakeland to the shore of England's grandest Lake.
THE LOGISTICS
Part of the challenge with a long-distance walk is arranging the logistical aspects, such as accommodation, transport, food etc, although you can find companies who will make the arrangements for you.
For some of us, the time we can be away from home/work is limited so whilst most people choose to walk the Dalesway in around 6-8 days, we wanted and needed to complete in 4 days. We gained a couple of extra friends taking our number to 6.
Accommodation along the Dalesway is limited so booking in advance is essential and one year before our departure, we started planning our daily distances with suitable accommodation stops. Even 1 year in advance the choice of accommodation was limited so our sections would look like this:
ILKLEY TO STARBOTTON          = 25 MILES
STARBOTTON TO DENT           = 23 MILES
DENT TO BURNESIDE              = 21 MILES
BURNESIDE TO BOWNESS       = 10 MILES
We had some long days ahead! And, those mileages ended up being 27, 25, 23, and 12.
Accommodation booked, we planned our monthly training walks, gradually building up to around 20 miles with hilly terrain. Our Dalesway route was planned for the end of May when the days were longer, and we were guaranteed daylight hours for walking. Training through winter meant we were often chasing the sun as it went down.
We also needed to plan our baggage transfer and coordinate collection/drop-off times with our accommodation.
And nearer the time we confirmed breakfasts, evening meals, and packed lunches. Covering 20+ miles per day was going to mean early starts (walking by 7:30 am) and late finishes (probably still walking at 6 pm). We would need some standby options in case we couldn't get food at the right time. Porridge pots and pot noodles all the way!
And finally, we could book our train tickets and transfers.
THE ROUTE
Long-distance paths are usually reasonably well waymarked… but you still need a map and some navigation skills. Most of our team have a Scouting background and experience in navigation. Knowing where we could access refreshments and toilets (or not!) helps to ensure you don't run out of water and food. And whilst some sections of the Dalesway are very busy and awash with cafes, other sections are remote and isolated.
As well as being prepared for the mileage, it's also important to understand the terrain and your ascent/descent – and train accordingly!
THE TRAINING
We planned our monthly training walks, gradually building up to around 20 miles with hilly terrain. Our Dalesway route was planned for the end of May when the days were longer and we were guaranteed daylight hours for walking. Training through winter meant we were often chasing the sun as it went down. It also meant we were not necessarily training in the kit we would be wearing/using – an important aspect of any training. Kit or clothing that is comfortable on a 5-mile walk may not be when you start hitting the longer distances. And training with your team helps you to understand each other's weaknesses and strengths.
THE UNEXPECTED
It happens and in January one of our team members pulled out and that meant we were back to the drawing board – do we try and fill the place or go as a 5 or postpone? We managed to fill the place with a good friend of one of the team – she was a marathon runner and a perfect replacement.
And in the final days before starting the Dalesway, my mother-in-law fell terminally ill. I wasn't sure I would make it at all. She stabilised enough for me to get away but every day bought uncertainty as to whether I would need to abandon the challenge and head home. Being away from family at such an emotional time bought new and unexpected challenges.
THE PREPARATION
Completing the length of distance we were aiming for each day generally means you are going to hurt. And thoughtful preparation can limit that hurt. Good nutrition, hydration, and foot care are vital in the months/weeks/days leading up to the challenge.
On the day, taping hot spots on feet (and hands if you are a Nordic walker) to prevent blisters, and any vulnerable areas to prevent injury, ensuring you have sunscreen, Vaseline, painkillers, hay fever medication, insect repellent, talc etc
THE WALK – DAY 1 – 27 miles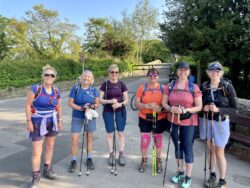 The first day of a long-distance walk is always a mixture of excitement and nerves. The culmination of several months of organisation, planning, training, and commitment. Those emotions carry you through that first day. We start early and the first section of the Dalesway out of Ilkley is very popular and it's easy to see why – it's truly beautiful! In fact, the Dalesway is one of the prettiest long-distance walks I have done.
We keep our stops short so 15 mins for morning and afternoon tea breaks and 30 mins for lunch, where we retape feet and change socks. We talk, we laugh, we check in with each other.
And finally, we arrive at our accommodation. A quick shower and we are ready for dinner. Dinner eaten and packed lunches ordered, we head to our rooms where we begin the nightly ritual of tending to blisters, massaging aching muscles, taping the sore bits, and arranging our walking kit and snacks for the next day. And sleep!
THE WALK – DAY 2 – 25 miles
Another early start and day 2 is always a tough one for me. Psychologically I believe most people can push themselves through one long day. Getting up and doing it all over again the following day is a completely different ball game and my body screams in protest. Day 2 is pure mind over matter and a time when I need to draw strength from within.
As with any goal, it's important to break it down into smaller steps. So whilst the overall goal was to complete 80+ miles over 4 days, the smaller goal in my head was to get to tea break and then re-evaluate. One mile at a time…one stile at a time (OMG the number of stiles is beyond comprehension). The advantage of having completed similar challenges before is that I know I CAN do it. And sometimes that confidence is all that carries me through.
THE WALK – DAY 3 – 23 miles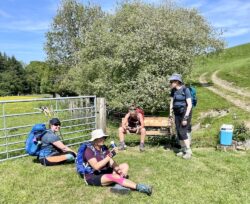 Physically and mentally, I turn the corner. My body mildly protests and then calmly succumbs to another day of walking – I know it's going to be a good day. We are already over halfway. And I begin to focus on the overall goal now that it is within reach. Another lovely section of the Dalesway and I enjoy the scenery and walking with my friends and teammates. The late addition to our team has fitted in brilliantly and observes that what she loves most about us is our ability to just get on with it without complaint. And it's true – we are all hurting and we know it – but none of us say it.
THE WALK – DAY 4 – 12 miles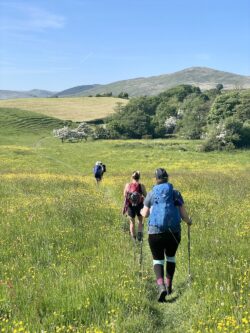 The final day and at 12 miles, a breeze! We take the luxury of a 30-minute lie-in and a proper cooked breakfast! We have come this far, and we all know we can make the finish line. But we are slower now and take a more leisurely pace. Strolling into a very busy Bowness in the late afternoon, we briefly celebrate before going our separate ways to shower or swim. The swim in Windermere was a soothing and refreshing treat after an epic walk!
THE CONCLUSION
So long-distance walking IS tough – this was my toughest challenge yet in terms of the daily mileage completed.
But amongst the hardship we always find SO much more – we find our true spirit, we find solace in the beautiful scenery, we find camaraderie in our teammates and we find strength in ourselves.
Would I do it again? In a heartbeat.
Thank you – Hazel Harkin, Nicky Trotman, Ali Sturgess, Ali Alger, and Tracy Sodeau – for being the best friends, team mates, endurance walkers – and for simply being YOU.
STRONG WOMEN: may we KNOW them: may we RAISE them: may we BE them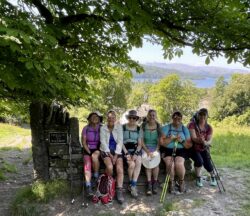 TRACY REEVE
LEAD INSTRUCTOR
NORDIC WALKING WATFORD