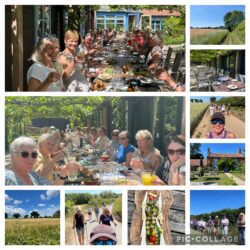 Hello Norfolk Nordic Walkers,
We really are now fully immersed in summer walking – and loving it.  Hydration is key on our walks, along with asthma inhalers where necessary and factor.  Last Wednesday 20 of us explored a brand new route from Itteringham over to the Blickling Estate.  As you can see from the photos, it was fabulous.  We then all did a quick change in the car park of the Walpole Arms and partook of a wonderful "under the vines" lunch al fresco, eating tapas in the cool of the shade.  We do have TWO more recce walks lined up here – so watch this space as there will undoubtedly be another WALK + LUNCH in this beautifully rural area.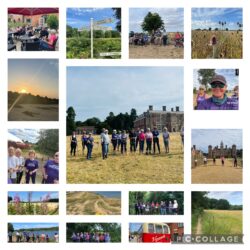 BECKY'S FRI-YAY DUNSTON WALK – NEW TIME FROM JULY
Becky loves this walk!  (But actually she is an even bigger fan of the Car Boot Cafe afterwards for a good natter!!!)  The news is, she will be starting this ever-popular Friday session at the earlier time of 9.30am from the 1st July.  For those of you who like to come to this walk after my STRETCH, FLEX AND BALANCE Zoom class, don't worry! I will start my class from 8.15am instead of 8.30am from July also. 
(Book ahead as this session can fill up fast!)
KEEPING COSTS DOWN
I have always been determined since setting up my NNW business in 2017 to make walking / exercise accessible for all, regardless of age or fitness level.  In line with this, I aim to offer as much variety and choice as I can at a very reasonable price.  I don't want this to change.   I therefore have no intention to raise them this year as I want us all to keep exercising together regardless of the current unsettled economic climate.  Phew! One good piece of news for everyone…
MONTHLY MEMBERSHIP
For £27 per month, you can book on UNLIMITED walks AND Zoom Workouts too.  You also get PRIORITY PASS to book ahead –  and thus avoid the Waiting List! It's a total bargain and keeps you motivated to exercise MORE – good for your body, mind and soul.
WALX HQ FREE ZOOM SESSIONS – SO MUCH CHOICE!!!
The "WALX HQ Presents …" sessions are delivered online via ZOOM from WALX & Nordic Walking UK head office, helping you stay active and mobile from home. All sessions are FREE for those on our monthly payment package. So much choice….
MONDAY
7.30am Wake Up & Stretch
8am Monday Heart Rate Raiser
9.30am Swing, Move & Smile
TUESDAY
7.30am Early Start Workout
7pm Yoga 
WEDNESDAY
1pm Lunchtime Pilates
THURSDAY
7.30am Early Start Workout
8.15am Body Blitz
9.45am Resistance IS NOT Futile!
7pm Evening Pilates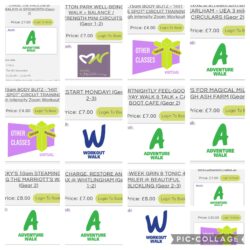 PURPLE T-SHIRTS / VESTS
 A few of you are keen to purchase NNW t-shirts / vests but I have run out of stock. However you can purchase Cool Tech t-shirts and vests (for both genders) on the NWUK WALX site and if you buy one, you can drop it into my FREE DELIVERY Sheringham box when you check out and save £5 p&p.  
At the checkout, click the COUPON CODE box and enter RW30June and it should show delivery to me at:  48A The Avenue, Sheringham, NR26 8DQ and not charge YOU!
Delivery to me / you NEXT WEEK https://store.walx.co.uk/shop/clothing/t-shirts/cool-tech-t-shirt-female-2/
SEPTEMBER HALF MARATHON TRAINING WALKS
Looking ahead – not so far away now – there will be longer distance training walks specifically 'geared' to those of us taking part in the North Norfolk Half Marathon run by Positive Steps Events:
13 Aug HALF MARATHON TRAINING WALK – 7 miles
20 Aug   HALF MARATHON TRAINING WALK – 9 miles
3 Sept   HALF MARATHON TRAINING WALK – 11 miles
24 Sept  THE NORTH NORFOLK COASTAL HALF MARATHON – 13.1 miles from Burnham Overy Staithe to Morston! 
PLS REMEMBER: The Half Marathon is not an event I organise. I am a participant NOT A LEADER but if you want to walk as a team, we will aim to walk at a steady 3.5 mph and joining the training walks will help you get into the swing of that pace for the duration. On the day, you may prefer to take your time and do it at your own pace.  It's totally UP TO YOU. 
I have now booked taxis for those of you who responded to last week's email about needing a lift from Morston – Burnham.
SATURDAY WALKS
We LOVE our Saturday adventure walks.  This week Lynne has been over in Potter Heigham doing her recce for today's walk and was delighted to find that whilst walking between reed beds she was accompanied by butterflies and birdsong.  Meanwhile Becky has been over in Gressenhall putting together a wonderful 6 mile circular, starting from the workhouse and ending in the cafe!  i have been back to Felbrigg as I cannot decide which route to follow for my July walk.  Decisions decisions!  Our Saturday walks are always longer (approx 4-6 milers) so watch the website to see what floats your boat.  We do like a cafe, Car Boot Cafe or pub afterwards too.  #weekendvibes