Happy September…! 
What a blazing summer it's been but now cooler climes are on the way (or are they?). Well done to you all for not being deterred (EVER) by the weather, but instead coming out prepared and ready for action. I throw in a flashback in the photos below to last year's mud as we will soon be walking in it once more!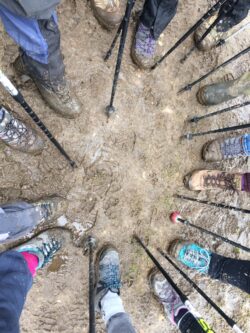 Our Half Marathoners have now reached the 11 mile mark in yesterday's training session over in Aldborough – Weaver's Way.  It's amazing how week on week the mileage has grown along with the team camaraderie.
Goals, however large or small, are what motivate us all whilst out Nordic Walking.  We have such a good array of walks to suit all levels of fitness that there is always room to progress upwards. 
NEXT WEEK – ADAPTED SCHEDULE FOR W/B 5th – 9th SEPTEMBER + ZOOMS
With schools back, it's time for my annual week away to enjoy child-free Europe!  We're off to Sevilla for 5 days on Monday.  Becky will be holding the fort during the week and Lynne will be heading up the Saturday Special.  I cannot thank my two NNW walk leaders enough for being wonderful, AMAZING and adaptable.  They always jump in and support where necessary and I value them hugely – as I know you all do.  Teamwork is dreamwork…
Monday 5th
7.30am Wake Up & Stretch*
8am Monday Heart Rate Raiser*
9.30am Swing, Move & Smile*
Tuesday 6th
7.30am Early Start Workout*
9.30am HIGH ASH CIRCULARS (Gear 2) 
11am RE-CHARGE AT WHITLINGHAM (Gear 1 – 2) 
7pm Yoga*
Wednesday 7th 
10.15am WHITWELL STATION 4.5 mile CIRCULARS (Gear 2)
1pm Lunchtime Pilates*
Thursday 8th
7.30am Early Start Workout*
9.45am Resistance IS NOT Futile!*
7pm Evening Pilates*
Friday 9th 
9.30am FRI-YAY WALK & TALK @ DUNSTON (Gear 2) 
Saturday 10th
9.15am   YARE VALLEY SATURDAY SPECIAL
* The "WALX HQ Presents …" sessions are delivered online via ZOOM from WALX & Nordic Walking UK head office, helping you stay active and mobile from home. All sessions are FREE for those on our £27 monthly payment package. So much choice….
…THE NORFOLK NORDIC WALKING SHOP N DROP BOX AWAITS…
The Nordic Walking Online Store has the largest selection of Nordic poles / paws / clothing / accessories in the UK with discounts for all NWUK members.  
https://nordicwalking.co.uk/store
At the checkout, click the COUPON CODE box and enter rebecca15s and it should show delivery to me at:  48A The Avenue, Sheringham, NR26 8DQ and not charge YOU £5 p&p. Delivery to me  on 15th September. You then receive your items at your next walk after the delivery. Simple!
OUR REGULAR BUZZY WEEKLY SCHEDULE RESUMES W/B 12th SEPTEMBER…
As you can see from the BUSY WEEKLY SCHEDULE BELOW and on our website  https://nordicwalking.co.uk/instructors/norfolk-nordic-walking/ all our walks / Zooms are bookable right up to Christmas.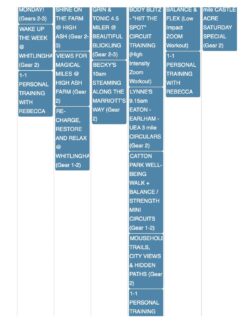 Yes – some of you have already bagged your places on our 21st December Ho! Ho! Ho! Festive Walk @ Blickling + lunch at the Bucks. The NNW Team and I have been recce-ing new locations for toasty Autumnal walks plus our new Thursday 11.15am CHASE YOUR PACE (Gear 2) starts on 15/9.  It's all go.  And we love it that way…
We can't wait to walk with you VERY soon…
Best,
Rebecca, Becky & Lynne 🙂
P.s The lake walk is now open at Blickling once more! Whooooooo Whooooo….