Hello Norfolk Nordic Walkers,
T'is the season of mud and wet weather again! 
After the sun comes rain – and that means MUD. Whatever your view on this seasonal 'extra' there's little chance of avoiding it if you want to walk at this time of year.  So here are a few TOP TIPS to make your wet and muddy walk a happy one.
Make sure you have the right footwear / socks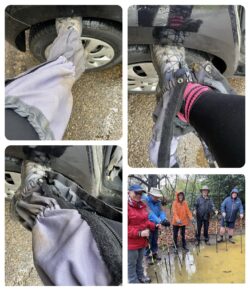 Are you slipping and sliding on the muddy patches more than others? Chances are your footwear's to blame.  You really need to be wearing good walking shoes or boots with a sturdy tread. Getting wet feet is simply awful so at this time of the year, you can bet the NNW Team will be in their waterproof socks.  You wear a sock inside them and they keep your snug and dry all day.  We recommend Otter and Sealskinz.
Use Nordic walking poles for stability
Nordic walking poles are super-useful for everything from balance training to walking in the mud.  Punch them in hard and they will stop you skidding around.  They will also help prevent you falling if your feet do slide. Don't forget you need to maintain the downward pressure into the ground once you've planted the poles in order to benefit from their support.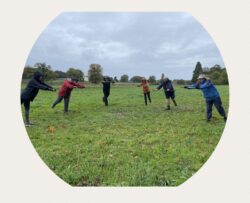 Remember the extra workout you're getting and calories you're burning!
Walking in mud gives you a great workout:
your legs have to work harder, both through the mud and to stop you sliding sideways in it;
your stomach muscles switch on more to help you keep your balance and stop you slipping backwards as you push off through your toes;
your upper body and arms have to fully engage to push harder through the poles and help you stabilise.
Invest in decent kit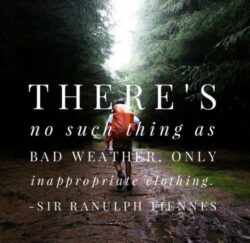 You might sink down quite deeply into soft mud, and it can even come up over the tops of your shoes, so a pair of gaiters will prevent any unwanted moisture from penetrating your boots. Invest in a good quality waterproof jacket.  Seriously – the more money you spend, the less you will sweat in it.  Cheap ones leave you more damp on the inside than you often are on the outside.  I rarely wear my waterproof trousers but when I do, I value the fact I spent well on a good pair of lightweight pair.
WHY GROUP WALKING WORKS… MY TOP 4!
What's not to like than the post walk buzz of "We did it!"
All of the above increases your body's demand for energy and the number of calories you burn.  What's not to like about that?! PLUS…Nordic Walking together is great because:
It gives us a reason to get out – come rain or shine.  In the winter months in particular it's tempting to slip into 'hibernation' mode.  Our regular classes (let's face it, there's a lot of choice) and the friends we've made provide the motivation to get out and get active – and feel so much better for it.
We get fitter and we are also part of other people's fitness journey.  All of us enjoy the increased total body fitness that comes with Nordic walking – but, more rewarding than this, is watching those around us reach health and fitness milestones.  In the New Year I will be introducing monthly longer Saturday walks (6-9 miles), a chance to push your fitness and walk somewhere different.
It's a social exercise. WE love getting into a cafe

 

/ having a brew / Car Boot Cafe for a post walk warm up.
 It'll help boost your mood!

 

Connecting with others makes us feel good, but socialising while doing moderate exercise releases the feel-good hormones, endorphins at the same time, so it's a double whammy! Exercise can not only lift your mood, but also help you feel less stressed and better able to deal with challenges more clearly.
STILL NEED ENCOURAGEMENT TO WALK IN THE RAIN?
Read this great little article about the numerous benefits of wet weather walking in this week's Guardian.
https://www.theguardian.com/lifeandstyle/2022/oct/29/bad-weather-is-good-for-you-take-a-walk-in-the-wind-and-rain?fbclid=IwAR13Mw2eJCCnux8QIw1q-ve_M-ohBs8HOR6PDBcuw9fwQC0m530RD1U8P4I
WAITING LIST & CANCELLING WALKS
You may find that when you book certain walks, you are on the Waiting List.  Whilst we advocate early booking to 'bag your slot' – we do also try to fit everyone in so never be deterred and cancel your WL place.
If you need to cancel a session, pls can you do so with 24 hrs notice. That helps everyone.
NO SESSIONS ON 17th NOVEMBER
Sorry y'all but we shut shop on 17/11.  I have dental surgery in the morning and Lynne is away.
***NNW WINTER SCHEDULE ***
(UNLIMITED WALKS P/W + UNLIMITED ZOOMS  are incl in our £27 PER MONTH PACKAGE )
Monday   
9.15am KICKSTART @ WHITLINGHAM COUNTRY PARK (Gear2- 3)
10.15am WAKE UP @ WHITLINGHAM COUNTRY PARK (Gear 2)
11.15am PRIVATELY BOOKED 1-1
Tuesday
8.30am HIGH ASH FARM FAST WORKOUT (THIS WALK WILL RE-START IN SPRING)
9.30am HIGH ASH CIRCULARS (Gear 2)
11am RE-CHARGE AT WHITLINGHAM (Gear 1 – 2)
Wednesday
10am MID-WEEK MAGIC AT BLICKLING 4.5 mile (Gear 2+)
10 am BECKY'S STEAMING ALONG THE MARRIOTT'S WAY 4.5 mile CIRCULARS (Gear 2)
1.30pm  PRIVATELY BOOKED 1-1
Thursday
8.15am BODY BLITZ ZOOM WORKOUT
9.15am  LYNNE'S EATON PARK WEST – UEA CIRCULAR (Gear 2)
10am CATTON PARK WELLNESS WALK + MINI CIRCUITS (Gear 1 – 2)
11.20am CHASE YOUR PACE (Spixworth -NDR – Airport Circulars) GEAR 2
Or on alternate weeks
11.30am  MOUSEHOLD CIRCULARS (Gear 2)
12.30pm PRIVATELY BOOKED 1-1
Friday
8.15am STRETCH, BALANCE & FLEX ZOOM WORKOUT
9.30am BECKY & LYNNE's  FORTNIGHTLY FRI-YAY WALK & TALK @ DUNSTON (Gear 2)
10am PRIVATELY BOOKED 1-1
Saturday
9.30am   SUPER SATURDAY SPECIALS ACROSS NORFOLK – see NNW website!
Let's head into this uncertain winter with plans to stay fit, healthy and above all – H A P P Y !!!
Best,
Rebecca and Team NNW