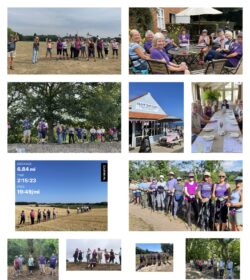 SIX Simple Benefits of Nordic Walking…
As you would expect, many of the health benefits from Nordic walking are the same as for walking and running. It raises your heart rate, burns calories, strengthens and tones you. The seemingly small addition of two poles coupled with the Nordic walking technique adds some awesome additional benefits:
Nordic walking uses way more calories than ordinary walking. Research suggests it's around 46%. The clever thing is that although you're burning more calories it actually feels easier because your effort is spread between your upper and lower body.
Nordic walking is better than both walking and running for muscle strength and balance. It uses 90% of your body's muscles and the action of pushing down through the poles bolsters your deep core muscles and balance. It's also amazing at zapping those hard to reach 'bingo wings' on your upper arms.
It supports your back and protects your joints, strengthening your postural muscles so that even when you're not Nordic walking, you walk better with less back, neck and shoulder pain. It's especially good up and down hills if you've got sore hips or knees.
Nordic walking is great for mental wellbeing. Like walking and running, it's sociable, outdoors and fun, plus the technique requires concentration, keeping other worries at bay. The action of planting the poles in the ground is rhythmic and meditative and helps you unwind.
It is superb for improving circulation, helping resolve conditions such as numb fingers, and has benefitted many asthma sufferers too as the improved posture whilst walking makes breathing easier and more efficient.
Last but not least, the poles provide support and power, making walking easier if you lack confidence or find it difficult, and harder if you're looking for something more energetic than ordinary walking but not as intense as running.
Have a read of this CNN article to find out more….
"Nordic walking beats interval training for better heart function", study says –
https://apple.news/AG6Nw-KUmTNGQ2DB1gIyVRg