With clear skies and your enthusiasm, it's been a really super week of walks and training!
We started the week off with the Wellbeing walk from Highwoods lane where a large group if us took to the quiet lane that boasts fabulous views throughout. Lovely to welcome a few new faces and enjoy blue skies!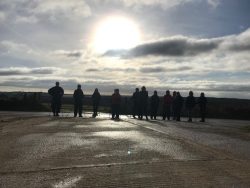 We 'pushed the pace' through the back twittens and paths on Wednesday evening that weave their way around the south side of town. Good to see the group numbers going up again, just few more weeks and we'll be walking in dusk rather than darkness! Roll on Spring! Join us this week for your mid-week all over body workout!
Saturday Carole and I hosted the Technique training workshop which was a great success. With a scattering of clouds, we were blown along by the sweeping winds, our shadows showing off well-honed techniques by the end of the session! See pic attached. Well done all and thanks for the feedback so far! We hope to do another session like this later in the year.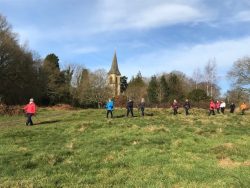 We also intend to provide more instruction throughout the walks in general. So, apologies ahead of time if we interrupt a conversation you may be having to give gentle reminders about technique. 😊
The workshop was followed by a romp around the woods, Birchwood looked so pretty in the dappled shade. See the attached pic of the jolly lot who came along.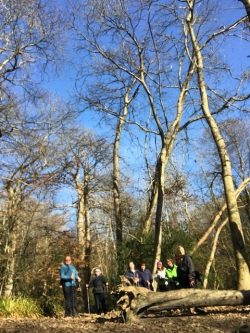 As we move into the middle of the month let's keep up the momentum and strive to make improvement to our fitness and mental wellbeing.
For lots more through Feb & March see here: https://nwuktunbridgewells.co.uk/activities/
Let the wind in your hair fill you with joy!