Join us to Nordic Walk the Milton Keynes, Willen Lake, Park Run alternate Saturday mornings.
In October 2022, Organisers of the well known 'Park Run', a worldwide organisation, actively promoted WALKING at Park Run. So, the 'Purple Ones' decided to give it a go – and LOVED it! It's a 5km route that ALL of our Nordic Walkers can take part in, from GENTLE to WORKOUT walkers!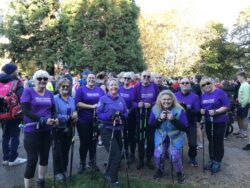 The Willen Lake 5km route is a route that we know well and often nordic walk, so our walkers were prepared for the famous 'ZIG-ZAGS' that even many of the regular runners fear. Nordic Walking poles propelling us forward with each step, giving us a full body workout, we make short work of the incline. Our times have ranged from 41 minutes to a very respectable 60 minutes for the Gentler walkers and it's surprising to see who has an inner 'competitive' side!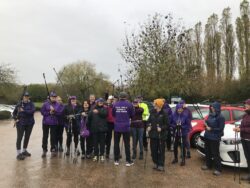 We'd love you to come an join us! Come rain or shine, you'll find the 'Purple Ones', MK Nordic Walkers, out and about and always with a smile! Running is Great! but its also NOT for all of us. Speaking from personal experience, I know my knee and hip joints would not thanks me for the impact running can give us, but, there IS AN ALTERNATIVE! Nordic Walking!
By learning to correctly use these specially designed Nordic Walking poles, you can learn to propel yourself forward with each step. You will engage up to 90% of your body's muscles. Working your arms, your chest, strengthening your back and core AND burn up to 46% MORE calories compared to regular walking! Think Crosstrainer at the gym. Nordic Walking was developed by Cross Country skiers in Europe as part of their summer training routine. It can be done anywhere and with minimal equipment, come along and try a FREE 30min TASTER session, then complete a 90 minute 'POWER OF POLES Introduction session' to learn the basics, then come and join us on our regular timetabled Nordic Walks available 7 days a week, including some evenings, in and around Milton Keynes, Woburn and Aspley Woods. We have walk levels to suit everyone.
Pole hire is included in the Power of Poles session and for several walks after, we are happy to advise on the best poles for you before you make a purchase. On completion of the POER OF POLES your first nordic walk with MK NORDIC WALKING is FREE! so come and give it a try…