Hello Norfolk Nordic Walkers…
…HAPPY MAY – IT'S NATIONAL WALKING MONTH!!!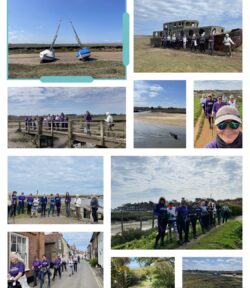 Summer is around the corner and the weather is finally starting to warm up. Check out the photos for a little slice of the April Action. Yup there's been a lot of rain too – cannot deny it – but it never 'muddies' the Nordic spirits! As we head into one of our fave months, surely the Nordic nose blowing is coming to an end? Hmmmm….
WHAT IS NORDIC WALKING?
I often get asked this!  And you know what I say? It's POWER WALKING WITH POLES.  Simple as that.  Plus – it releases happy hormones, lowers blood pressure, improves sleep, sneaks in more vitamin D exposure, reduces the risk of dementia, increases bone strength and vitally, aids weight loss. Almost everyone can do it, it can be done anywhere and the natural movement with poles means very little impact on joints. It's basically perfect!  And that's it. In a nutshell. (Apart from the fact that you meet other like-minded people who are quite simply fantastic to hang out with!)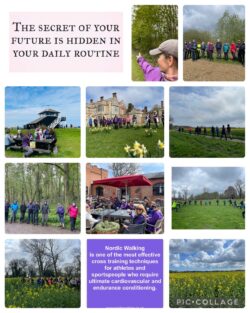 MAY IS NATIONAL WALKING MONTH – HERE ARE OUR NNW 10 TOP TIPS TO GET THE MOST FROM YOUR WALKS :
–Add variety and mix up your routes
-Never let the weather deter you. Be bold – Start cold.  Embrace the rain! Mud is our friend… 
–Book your walks as far ahead as possible, otherwise life (and excuses) can get in the way.
–Walk with others.  Statistically those who walk with a group GET FITTER than those who walk alone.
–Vary your walking pace. Speeding up and slowing down increases fitness and your workout will become more effective.
–Include hills. When you walk up hills you recruit many more muscles, this forces you to work with more effort. 
-Use a fitness monitor to see how hard you are working. We share the stats with you on our walks. 
–Use Nordic poles! This turns walking into a total body workout, improves posture, builds upper body strength and burns up to 48% more calories.
–Engage upper body muscles with your poles.  This is like being on an outdoor cardiovascular machine at the gym.
–Set yourself challenges! From trying a faster / longer walk to joining one of our long distance events,
e.g 1/2 Marathon – this gives you a NEW goal!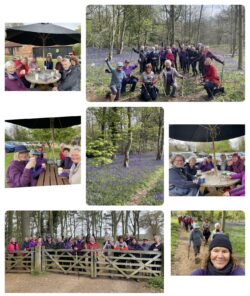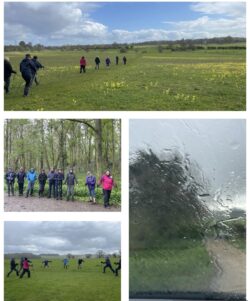 (Fun even in pouring rain…….!)
WHICH WALK SUITS YOU?
At Norfolk Nordic Walking we offer a variety of GREAT walks in FANTASTIC locations.  Some are faster than others.  Some are better for beginners and others for those who like a longer leg stretch.  Our aim is to make you work harder than you would out on your own. But with a wide variety on offer, you can pick walks to suit you depending on where you are on your fitness journey.
At Norfolk Nordic Walking we understand:  ONE SIZE DOES NOT FIT ALL. So, here's our definitive guide of what's on offer each week…and which walks will suit YOU! (We also run exercise-at-home Zoom classes too!)
Wellbeing Walks:
Suitable for beginners and those who want a gentle pace.  Terrain mostly flat. Gear 1 with Gear 2 challenges. We aim for 2 miles per walk AND include strength, balance and conditioning exercises in each session. Fabulous!
Thursday Catton Park 10am
'Pick Your Pace' Walks: 
These classes are suitable for most fitness levels who like a Gear 1 -2 pace where the terrain is diverse.  We will enjoy regular stops to admire the views. We aim for 2.5 miles per walk. Expect occasional hills but also a 'pit stop' at the top! 
Tuesday Whitlingham 10am
Thursday Catton Park 10am
'Adventure' Walks:
These classes are suitable for all Gear 2 fitness levels.  Hills can feature on these walks. Extra challenges included for fitter walkers. We aim for 3 miles per walk but there are plenty of opportunities to stride out. 
Monday Whitlingham 10.15am
Tuesday High Ash Farm 9.30am
Thursday UEA/ Eaton/ Earlham 9.15am 
Thursday NDR – Spixworth / Horsham St Faiths 11.20am
Friday Dunston Common 9.30am
Workout Walks:
The class speed will be brisk and fast. Hills and High Intensity Intervals feature on these walks.  You need to be a confident walker who enjoys pushing up from Gear 2 – Gear 3.
Monday Whitlingham 9.15am
Tuesday High Ash Farm 8.30am
Longer Adventure/Stamina Walks:
Usually 3.5 – 7 milers in various locations.  You need to be able to walk consistently in Gear 2. This class is suitable for most Gear 2 – Gear 3  fitness levels who can walk the distances but the terrain will vary.  
Wednesday Blickling Hall 10am (moderate/fast pace)
Wednesday Reepham Explorer Walks (moderate pace)
Saturday / Sunday VARIOUS LOCATIONS 9.30am (moderate/steady pace)
SOME LONGER DISTANCE SUMMER DATES COMING UP (ALSO TRAINING WALKS FOR HALF/ MARATHONERS)
Many of these walks are already fully booked BUT we always find spaces do come up so it's worth being on the Waiting List.  You rarely are disappointed….
DATE
DISTANCE

 

MILES

                             

LOCATION
3/6
6

 

Sheringham Park – Weybourne
17/6
6
Gressenhall – Wensum Way

 

15/7
8
Aylsham – Weavers Way
29/7
9
Cley – Wiveton – Salthouse
12/8
10
Holkham – Wells
19/8
6
Watch this space…
9/9
11
Blakeney Downs, Glandford

 

& Beyond
23/9
13.1 HALF MARATHON!!!!
Burnham Overy Staithe – Morston
TICK PREVENTION – PLEASE READ
This is a really good article and well worth a read…
https://www.countryfile.com/go-outdoors/guide-to-ticks-how-to-protect-your-dog-and-treat-tick-bites/
NORDIC RUMBLE – OUR WHATSAPP GROUP
If you like to stay in touch with updates, photos, info about Norfolk Nordic Walks, traffic news etc via WhatsApp then why not join our group?  Text Rebecca on 07832 108200 to be added to the group. (ALSO keep up to date with our Norfolk Nordic Walking Facebook page too.)
Looking forward to another FAB month ahead.  Hurray! We have got walks on the first Bank Holiday (1st May) to celebrate the start of National Walking Month.  There's plenty of spring – early summer lush-ness everywhere (check out the bluebells that were spotted this week at Blickling)  and  factor and waterbottles now feature in the kit bag.  Please do think about sun protection and hydration as we head into the warmer months….
See you out there!
TEAM NNW – Rebecca, Becky & Lynne