Hello Norfolk Nordic Walkers,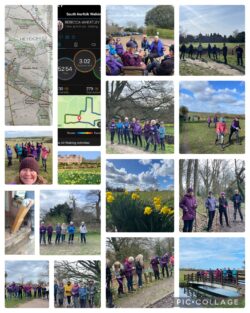 Spring is in the air and the weather is finally starting to warm up. This means it is time to start our annual Spring Watch and enjoy the signs of the changing seasons and lighter, brighter, longer days. We swap the squelch of muddy boots with the calls of birds.  Add to that the amazing buds, bluebells and vibrant colours emerging out from winter hibernation around us – and we have one of our very favourite walking months taking shape for us all to enjoy…
**Our Top 10 reasons to love Nordic Walking** 
Good For Your Heart
Nordic walking involves the same benefits as any other form of aerobic exercise – getting your heart rate up. 
Good For Your Joints
NW takes lots of pressure off your joints by engaging your large muscles, including the gluteus and quadriceps, which support the use of your lower limbs and activating your upper body muscles too. Double plus. 
Good For Your Brain
Research has shown that regular aerobic activities such as Nordic walking increase blood flow in the areas of the brain responsible for memory and learning abilities.
Strengthens More Muscles Than Traditional Walking
Nordic walking targets more of your lower body muscles, but it also works out your neck, arms, shoulders, and back as well – strengthening your entire body in a single workout session
Enhances Your Coordination And Balance
NW uses 90% of your muscles at the same time, which is great for improving your lower body endurance, coordination, and balance 
Improves Your Mood 
One of the benefits of nordic walking is that it impacts your brain positively. It can actually increase levels of endorphins that make you feel good and is most definitely a MOOD ENHANCER (even in rain!!!)
Burns More Calories 
Nordic walking can burn more calories than brisk walking alone.  You're using your arms and legs to activate larger muscle groups which means an increased rate of calorie burning.
Provides Stress Relief
When we feel good, our brain releases these chemicals in response to the physical changes caused by exercise. So when you feel your spirits are down or you are feeling stressed out, spend 60 minutes walking with Nordic poles and watch how your mood can be changed…
Nordic Walking is Social
This is one of the best things about Nordic walking – the fact that we can motivate and encourage each other whilst exercising AND have a really good chat at the same time.  The coffee / Car Boot Cafe after the walks is as important as the walks themselves. 
Keeps You Young
As you age, your joints and muscles lose their strength (If you don't use it, you lose it) – but Nordic walking is a great way to combat that.  It can also help fight back against osteoporosis by stimulating the production of new bone tissue.
**Parking NEWS**
We try try try to pick walk locations that are FREE to keep costs down and make our walks as accessible as possible for everyone e.g High Ash Farm, Roving Reepham, Catton Park, NDR/Spixworth, Mousehold, Dunston Common & lots & lots of Saturday locations.  However, below are places where we pay:
-Whitlingham: If you are a regular walker, you may like to consider their annual RCP Parking Pass (or park outside of the park itself on the road)
-Blickling Hall/Nat Trust sites: either £5 per day or FREE to National Trust members
-Eaton Park West: now is £2.00 for 2 hours (or annual pass)
**New SPRING INTO SUMMER Walks**
Whoop! Whoop! With lighter days we have TWO extra additions back on the seasonal calendar
8.30am Tuesday RISE N SHINE ON THE FARM – HILLS & THRILLS (Gear 2/3)
9.30am Fri-Yay WALK, TALK N CAR BOOT CAFF @ Dunston (Gear 2) now WEEKLY!!! 
**RECCE RECCE RECCE with THE THREE AMIGAS…**
There's nothing Team NNW like more than discovering NEW routes for our Saturday walks and sharing them with you all.  So far this year we have clocked up some delightful new walks in venues such as: Saxthorpe / Corpusty, Junction 21 Themelthorpe Loop, Baconsthorpe, Drabblegate – Silvergate Weavers Way and Weston Longville.  Did you know we have even reached Dunkirk this year? (Look at the photos below for proof!!) 
This week the three amigas (Lynne, Becky and I) are off to Heydon where we have a cunning plan to head out across the park and out across  the countryside trails (Watery Lane is one such track) and create a 5-6 mile circular that will end with lunch in the ever fab EARLE ARMS.  Watch this space for more info on this one. It will be a SUMMER SPECIAL…
**BLUEBELL WATCH –  SPECIAL BLICKLING WALK**
Ta Dah! This is the month where our team flower – the glorious purple bluebell – emerges and dazzles us all. ONE has already been spotted peeking out in Blickling this week – but soon there will be carpets of them in many of our wonderful walk locations. 
Particularly amazing is Blickling so we are putting on a special PURPLE BLUEBELL CELEBRATION CIRCULAR 4 MILER on Wednesday April. This will be a moderate Gear 2 pace and we can extend our numbers as both Becky and I will be leading.  C'mon join us….
**BANK HOLIDAY WALKING**
7 April – GOOD FRI-YAY WALK, TALK & HOT CROSS BUN CAR BOOT CAFE
10 April – NO WALKS
1 May – ALL WHITLINGHAM SESSIONS ARE ON to kick off the Early May Bank Holiday Monday
9 May – NO WALKS
**THE POWER OF BALANCE – FREE ZOOM TASTER CLASS ON 7th APRIL**
Until you start to lose your balance, you barely notice that it's there at all. The key, it is increasingly becoming clear, is to address the decline before it gets serious: and that can happen earlier than you might think.  Read on…
https://www.theguardian.com/lifeandstyle/2022/nov/02/can-you-stand-on-one-leg-for-10-seconds-why-balance-could-be-a-matter-of-life-and-death-and-how-to-improve-yours 
Join me on Friday mornings at 8.15am for a fun 30 minute live ZOOM class where we ease into Friday with a series of differentiated balance, stretch and flex exercises.  Bring along a rolled up sock and a chair! 
Click on the link below to find out more and book your free class:
https://walx.co.uk/find-walx/262134
**FAB ZOOM WORKOUTS – WALX HQ PRESENTS… **
If you a NNW Monthly Member  (UNLIMITED WALKS P/W + UNLIMITED ZOOMS  are incl in our £28 PER MONTH PACKAGE ) you also have access to the 'WALX HW Presents…' Virtual Workout sessions too.  Have a look below to see what you can join each week:
Mondays:
7.30am Wake Up and Stretch with Karen
8.00am Morning Heart Raiser with Lucie
9.30am Swing, Move & Smile with Mary
Tuesdays:
7.30am Early Start Workout with Emma
9.00am Smoveys with Ashley
7.00pm Yoga with Gilly
Thursdays:
7.30am Early Start Workout with Emma
7.00pm Evening Pilates with Karen
**LET'S DO LUNCH @ THE GOAT SHED!**
After the success of the February lunch here, Becky has waved her magic wand again and organised another marvellous date for 24 of us to indulge in the delish menu, enjoy the goat-y venue, spend some quality time chatting in our civvies (no gaiters in sight anywhere!) and have a giggle.  We're fully booked for the 20th April but Becky will be sending you info about pre-booking in the next week or so.
***NNW SPRING INTO SUMMER SCHEDULE ***
(UNLIMITED WALKS P/W + UNLIMITED ZOOMS  are incl in our £28 PER MONTH PACKAGE )
Book your place/s at https://nordicwalking.co.uk/instructors/norfolk-nordic-walking/
Monday   
9.15am KICKSTART @ WHITLINGHAM COUNTRY PARK (Gear2- 3) 
10.15am WAKE UP @ WHITLINGHAM COUNTRY PARK (Gear 2) 
11.15am 1-1 PERSONAL TRAINING WITH REBECCA  
Tuesday 
8.30am HIGH ASH FARM RISE N SHINE ON THE FARM FAST WORKOUT (Gears 2-3)
9.30am HIGH ASH CIRCULARS (Gear 2) 
11am RE-CHARGE AT WHITLINGHAM (Gear 1 – 2) 
Wednesday 
10am MID-WEEK MAGIC AT BLICKLING 4.5 mile (Gear 2+) 
10am ROVING REEPHAM  EXPLORER WALKS 4.5 mile CIRCULARS (Gear 2) 
Thursday
 8.15am BODY BLITZ ZOOM WORKOUT
9.15am  LYNNE'S EATON PARK WEST – UEA CIRCULARS (Gear 2) From 28th APRIL
10am CATTON PARK WELLNESS WALK + STRENGTH & CONDITIONING CIRCUIT (Gear 1 – 2) 
11.20am  NDR – SPIXWORTH – HORSHAM ST FAITHS CIRCULARS (Gear 2) 
Friday  
8.30am STRETCH, BALANCE & FLEX ZOOM WORKOUT
9.30am FRI-YAY WALK & TALK @ DUNSTON + CAR BOOT CAFE (Gear 2) 
Saturday 
9.30am   SUPER SATURDAY SPECIALS ACROSS NORFOLK – see NNW website!
It's April – bluebells are coming out – it's a perfect month to embrace our WALKING SUPER POWERS!  Let's get moving…
Rebecca & Team NNW